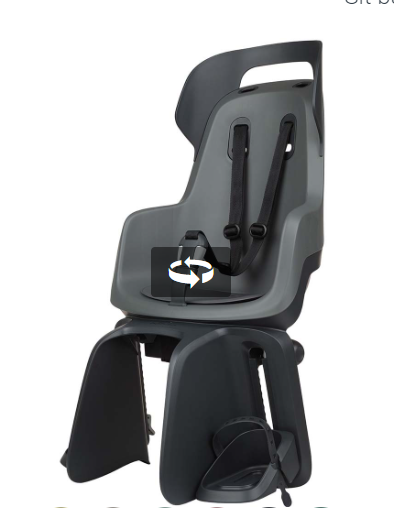 Bobike
Code:
8012600005
**Bobike GO MAXI RS CARRIER FITTING CHILDSEAT WITH RECLINING SYSTEM
The GO Maxi RS for Carrier featuring a reclining system is a trendy bicycle safety seat in pastel colours for the rear rack of your bike. The Bobike Go® RS has a unique reclining mechanism that allows it to be adjusted quickly and easily while the child is still seated.

Now people all over the world can enjoy sleek and stylish Dutch design.
The Go has a body-wrapping design and features a double-walled construction to provide extra safety in countries where biking infrastructure and culture are not as prevalent as in Holland.
Carrier Mount
The clamps of the seat mounting system attach to the luggage bicycle carrier.
Luggage Rack width: 120 - 175 mm
Luggage rack tubes dimensions: Ø 10 - 16 mm
You can use it right away without any assembly required. The Rack Mount connection can be securely attached to a rear bike rack without the need for any tools. You can simply turn a knob to install it quickly and easily.
Easily adjusted to any luggage rack size: The mount also allows the seat to adhere to either the front or the back of the bike rack.  While minor, moving the kid a couple of inches towards the rider can help to balance out the weight on the bike.
The carrier load capacity should be at least 27 kg and in compliance with ISO 11243:2016. Please note that the rack is not included.
Recling Mechanism
Featuring an innovative reclining system, the Bobike Go® can be reclined in just a few seconds while the child is seated, perfect for when they fall asleep.
You can easily recline the seat to a 20º angle by pressing the reclining button and pushing the seat back.