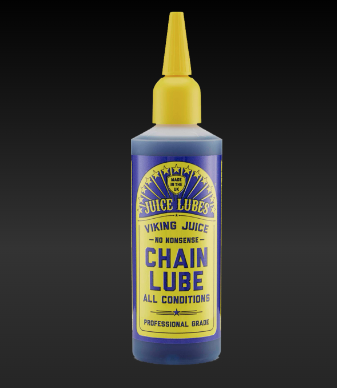 JUICE LUBES
Code:
CVJ1
JUICE LUBES VIKING JUICE, ALL CONDITIONS CHAIN LUBE 130ml
Designed to survive every crank of the Paris-Roubaix and crowned the "holy grail of Chain Lubes" by Singletrack magazine.
Viking Juice is our longest lasting lube and is built to pillage deep into your chain, conquering dust, rust and shady shifting. The Viking is tough – it'll stay put longer than any of our lubes to guarantee less workshop time, less rust, less missed shifts and a longer lasting chain.
High performance synthetic lubricant
For long rides in all weather conditions
Suitable for on/off road use
Extreme pressure additives increase chain life and drive train efficiency
Low viscosity for exceptional penetration into all parts of the chain
Sets to a dry finish that doesn't attract contaminants
Recyclable packaging