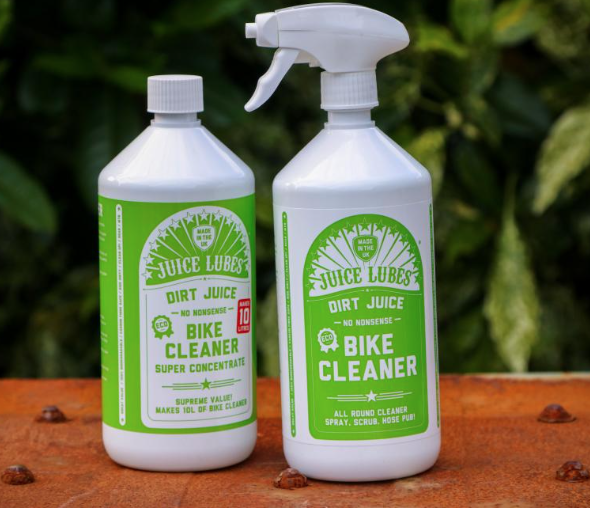 JUICE LUBES
Code:
DJDB1
**JUICE LUBES DIRT JUICE DOUBLE PACKBIKE CLEANER 2 X 1 LITRE
A double-trouble-for-dirt twin pack of Dirt Juice and Dirt Juice Super.
The Dirt Juice Double Pack gives you a bottle of Dirt Juice Bike Wash with a spray trigger and a bottle of Dirt Juice Super Concentrate.
Dirt Juice Super is our undiluted, concentrated cleaner. It's a smart, powerful degreaser that's perfect for washing dirty bikes like cassettes and chains.
Add water and Dirt Juice Super transforms into Dirt Juice Bike Wash - a tough as nails, simple and great value bike wash that's kind on paint but tough on grime.
Once mixed with water the double pack will create a whopping 11 litres of bike wash and should last for hundreds of bike washes. It's the best value way to buy your bike wash, hands down.
You can reuse both bottles as many times as you like and, when you're done, they're fully recyclable.
Combines 1 x Bike cleaner & 1 x Bike Cleaner Concentrate to provide 11 litres of bike cleaner
Professional grade bike cleaner
Safe for use on all surfaces including discs, pads & carbon fibre
Refillable trigger spray bottle
Premium quality foaming trigger spray
Biodegradable formula
Recyclable packaging