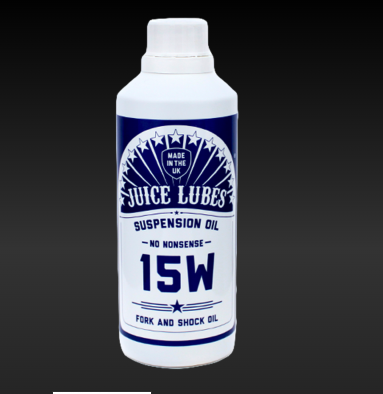 JUICE LUBES
Code:
JL15W
JUICE LUBES 15w HIGH PERFORMANCE SUSPENSION OIL 500ml
A fully blendable suspension oil that's fully synthetic and packed with stiction reducing and anti-foaming additives. Use solo or mix up and match to create the perfect blend for your weight and your riding style.
Don't forget to always follow the manufacturer's instructions when using suspension oil.
Fully blendable to allow the precise tuning of suspension systems
Stable, no foaming across a very wide temperature range resulting in consistent feel and performance
Extremely high viscosity index to maintain damping at elevated temperatures whilst also ensuring correct suspension operation at low temperatures
Stable under pressure and compatible with air, nitrogen or argon charged suspension systems
Excellent anti-wear protection with a high resistance to water contamination and degradation
Long service life, prolongs seal life
Recyclable packaging
ISO VG 46
Density @ 15°C 0.870 g/cm³
Viscosity @ 40°C 45.4 cSt
Viscosity @ 100°C 8.5 cSt
Viscosity Index 168
Pour point -36