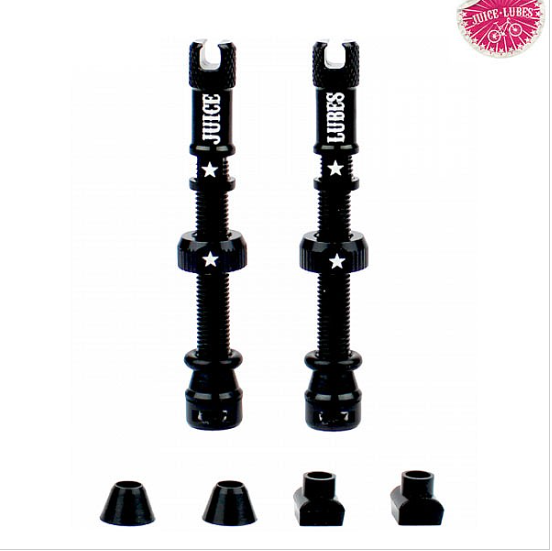 JUICE LUBES
Code:
JLV65BLK
**JUICE LUBES TUBELESS VALVE SET 65 mm BLACK
The best looking, best performing, most tooled-up valves in the game and absolutely packed them with features to make tubeless super simple.
Each valve cap is packed with 3 super useful tools, more than any other on the market. Each has a valve core tool and spoke keys for 3.2mm and 3.4mm spoke nipples. Tools are on both caps so no stress if you ever lose one.
Tubeless needn't be a faff and our valves make it easy peasy.
First up, the valve core is removable to make adding sealant a breeze, and that valve core tool is always close at hand when you need it.
There's a 4mm Allen key base for easy removal and a selection of rubber grommets for a perfect, airtight fit. Last but not least, a slotted base works perfectly with your tyre inserts and flat-sided edges on the lock ring help you clamp it down tight.
Finally, our packaging is 100% cardboard for easy recycling. 
MTB - CX -Road compatible
Premium 7075 Aluminium
3 x Tools on each cap
Valve core removal tool
3.2mm spoke key
3.4mm spoke key
Tyre insert compatible
4mm Allen key base
Wrenchable locking nut
Selection of rubber grommets
100% card packaging
Our tubeless valves are available in eight colours and two sizes:
48mm fits rims up to 30mm deep
65mm fits rims up to 45mm deep