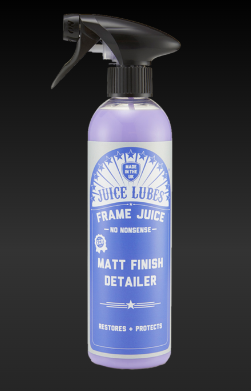 JUICE LUBES
Code:
MFD500
JUICE LUBES FRAME JUICE MATT FINISH DETAILER 500ml
Frame Juice Matt is your Blueberry scented secret formula to a beautiful matt finish. It protects and preserves, stepping in to buff your bike to brilliance leaving no streaks, smears or oily marks.
It restores matt paint jobs, vinyl and plastic parts back to good-as-new brilliance and leaves a dry, non-sticky protective force-field behind that will shrug off mud and water. Did we mention it also smells nice and it's biodegradable?
It works a treat on mountain bikes, road bikes and everything in between.
Suitable for all matt finishes
Restores plastics to as new status
Cleans and polishes in a single application
Removes greasy marks or sweat patches from surfaces
Non sticky finish that repels water
Creates a protective barrier between paintwork and grime
No residual dust or streaks after use
Biodegradable formula
Recyclable packaging